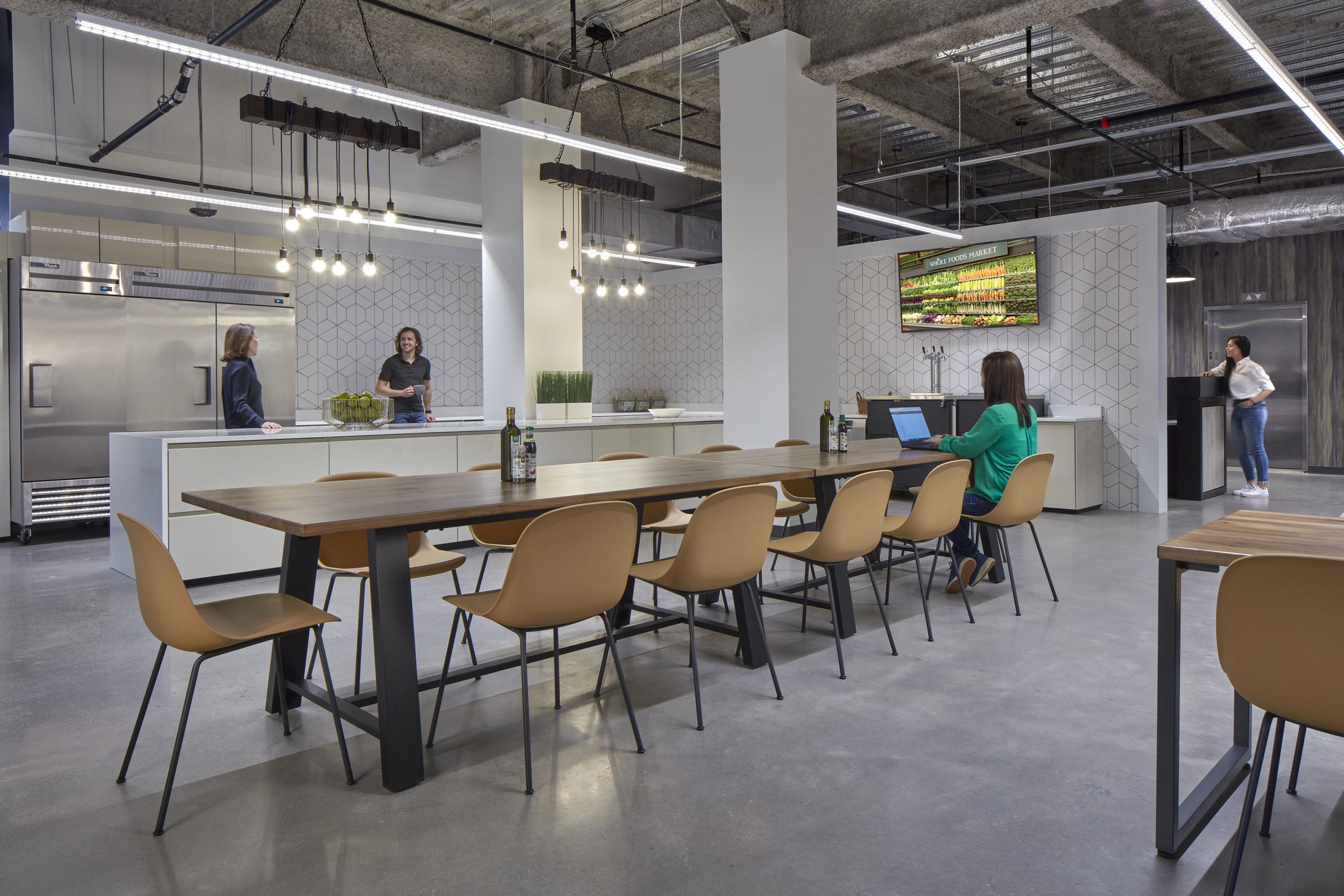 4 Ways Businesses Can Thrive in the Hybrid Labor Market
When I started my first job as a designer at HKS in 1983, there were no computers. We drew in pencil or ink on mylar, cut architectural models out of hot wire and foam, and all of the renderings were of course done by hand as well.
We worked long hours, but the world moved more slowly due to a constant lack of communication. We have traveled often; large projects in various cities outside of Dallas meant that the design team would visit our customers and end users during the week and report the changes.
Slowly, software replaced ink and mylar, (some) travel was replaced by conference calls, and we became more efficient than ever. We knew this new technology was transformative, but we could never have predicted how much our world would depend on the ability to work together instantly, seamlessly, regardless of our physical location. Likewise, as we reflect on our pre-COVID-19 world, none of us could have predicted how the pandemic would shift our focus from when and where we work to how we work..
Last summer, after several months of confinement, commercial real estate was booming, including our firm's business practice. If people could work effectively from home, what would become of our industry?
But after a year of working exclusively remotely endemic with employee mental health issues like burnout and loneliness, we've found that there's no substitute for the benefits of in-person collaboration. And offices are the primary places for many people to make these connections.
That doesn't mean we should rush to 8-5 though. With a job market more competitive than ever, employees expecting a more fulfilling work / life balance, and more companies like HKS adopting hybrid work strategies, business owners should rethink their work space. opportunity to also remain relevant. Here are four ways companies can evolve to thrive in the flexible or hybrid labor market:
Double the collaboration spaces
Companies have long emphasized the benefits of "open seating," but now is the time to re-evaluate how much space is needed for each employee or if it can be turned into something more valuable for collaboration.
Companies can encourage employees with focused work, like accounting or reporting, to work from home during concentration hours and transform individual workspaces into a space that cultivates diverse styles of collaboration, teamwork and brainstorming opportunities. Team members will then draw on the desk for inspiration through interaction, learning, and engagement, so group spaces should be conducive to these abstract processes.
Reinvent the purpose of the office
When in the office full-time, employees relied on the power of "occasional collisions" to bolster expected presence, but with people entering and exiting the office on variable schedules, we need to focus on intentional presence. In other words, employees come to the office for a specific purpose. They want to come back periodically because they get something they can't get anywhere else: inspiration, collaboration, and connection.
Think of the office as a place conducive to creativity; it can mean changing your expectations for the look and feel of an office. The collaboration comes with a vibe and liveliness that was not often seen in traditional offices before the pandemic. We need to explore and change the reasons why we go to the office in the first place, rather than expecting the same office environment before the pandemic.
Integrate the technology resources that teams need to thrive.
We have become more and more reliant on technology over the past year. When working in person, teams need to have resources at their disposal to be more productive during the transition from home to office. Many tools and software that have allowed us to stay connected throughout the pandemic, whether for meetings, task management, collaborative design or the development of shared documents, will always need to be easily accessible by teams in anybody.
In addition, the spaces must accommodate those who are physically present as well as those who interact virtually. The acoustics of these team spaces also need to be addressed, including noise control in ceilings to ensure those who connect virtually can be seamlessly included in the conversation.
Prioritize and keep the health of tenants at the forefront.
Healthy buildings are essential for tenants to feel safe in their environment. The WELL building health and safety rating is no longer a good to have, but something that building owners and occupants expect. Owners should aim to ensure transparency of the overall building environment, so that employees feel fully confident when they return to the office.
Solutions may include installing screens in elevator lobbies that graphically indicate key environmental issues regarding building performance, including carbon dioxide levels, lighting energy consumption, and occupant density. . In addition to visibly sharing health and safety interventions, consider updating heavily used areas like washrooms and elevators with touchless options for additional precautions.
As a company, we have subscribed to these strategies and advise our clients to do the same. As with any major change, however, we stumble and learn as we go. While the pandemic has taught us anything, sometimes it takes a dramatic push to drive innovation and ultimately make us stronger. Our industry is resilient and I look forward to seeing the progress as we move forward together.
Dan Noble is President, President and CEO of HKS Architects.